Christmas at Church at the Crossing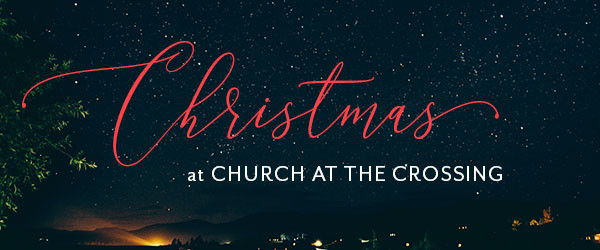 CHRISTMAS AT CHURCH AT THE CROSSING
Join us for Christmas!
In addition to our special Christmas events, Comfort & Joy and Christmas Eve services, we are excited to welcome several guest artists as they join the worship team for our services through the Advent season!
DECEMBER 9 - HEATHER LAKE
9:30 & 11:00AM
Studio vocalist, worship leader, and professional musician, Heather Lake, works for various recording studios in the Indianapolis area and as a guests artist with Symphonies as well. She studied music at Anderson University and has released a Christmas CD that we will hear live selections from with our Orchestra at Church at the Crossing.
DECEMBER 9 - COMFORT & JOY

4:00 & 6:30PM
DECEMBER 16 - JOHN TIBBS

9:30 & 11:00AM
John Tibbs is a singer-songwriter (Christian and worship music) in Nashville, TN. A graduate of Anderson University, he is a CCM artist and worship leader that has shared his story and talents all over the country. Having shared stages with artists such as Newsboys, Sidewalk Prophets, and Matt Maher, Tibbs has found his calling in leading worship and writing songs with thought-provoking lyrics in his rock roots style.
DECEMBER 23 - MEN'S TRIO: DAVID CAMP, CLINT DUNN, LAYKE JONES

9:30 & 11:00AM
David Camp has invested over 35 years in music - from gospel and worship music to opera - even being hailed as the "Pavarotti of the Midwest." Music evangelism has taken him through 29 states and 5 foreign countries. He is coming all the way from Oklahoma to Indianapolis to minister to and worship with Church at the Crossing.
Clint Dunn is the Worship Arts Pastor at Church at the Crossing, where as well as serving as a Worship Pastor for many years, he has also worked as a studio session singer, voice instructor, guest artist and clinician. He has performed with opera companies and has served as a resident artist and Chorus Master.
Anderson, Indiana native, Layke Jones is a full-time gospel artist with the Nashville-based gospel group, The Jim Brady Trio. Aside from touring 46-48 weeks a year, he also works as a show choir clinician/choreographer and studio session vocalist in Indiana, Ohio, and Tennessee. He is a familiar face to Church at the Crossing where he has sung on our Vocal Team for several years.
DECEMBER 24 - CHRISTMAS EVE SERVICES

3:30 & 5:00PM
DECEMBER 30 - ALANNA STORY

9:30 & 11:00AM
In addition to being original artists, sisters Ally and Anna also have a strong calling to lead worship. The band was divinely (and literally) formed into a family, comprised of Ally's husband, Stephen (electric guitar/mandolin), and Anna's husband, Ben (drums). They have released five recording projects, and have traveled both nationally and internationally, sharing the stage with many national recording artists and speakers.