Women in the Word is a weekly time for Bible study, worship and fellowship for women who want to grow spiritually through God's word, no matter how long they've been a believer. It's a place where you can invite your friends and meet some new ones.
Throughout the year, we are committed to offering excellent Bible study opportunities for women.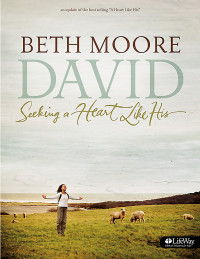 DAVID, Seeking a Heart Like His
An 11-Session Study from Beth Moore
Explore the depths of God's love with this updated edition of A Heart Like His. In this study of the "man after God's own heart," David will make you laugh and cry. He will delight and disappoint you. You'll want to be just like him at times and nothing like him at others. David's life clearly demonstrates that God is always able to reach us, correct us, and reclaim our worship. If you've ever experienced doubts, temptations, losses, or personal inconsistencies, this study is for you.
Tuesdays, March 5 – April 9

9:30AM – 11:30AM
Room 125/126 (enter at Door 10)

Childcare provided in Room 103
Cost: $16 for the study book (pay ahead online or by cash/check at first class)
Questions? Contact